Data Archiving Migration to Online Storage
CD Audio Ripping, DVD Ripping, Video Ripping
Need to migrate data records and files from DVD or CD to online storage?
Our Data Migration Solutions are for you…
Specializing in Medical, Law, Archivists, and the Financial Services
We make your records, exhibits and client information accessible, indexable and available on demand. Our automated system will make all data available to tie into any existing or future data retrieval system.
Formats Unlimited provides a full automation medical solution to process the transferring of stored Optical Disc (CD / DVD) images and data records to online storage. Physical RIS, PACS, CIVS or DICOM records? Our DataMigrator can be your import solution – which will automatically import all of your physical disc content and allow it to be indexed via any client/server or web based PACS / RIS solution.
Formats Unlimited will take any data DVD, data CD or data BD* (Bluray) and create a bit for bit copy of the discs file structure from the source disc itself, creating a local or even network copy for use in archive or backup applications. We check it for integrity, provide detailed reporting and have an open, flexible third party interface so you can tie the entire process into your records access system.
A simple workflow moves your physical media to any form of on line storage system or index including USB Harddrives – your organization benefits from instant access to records and files: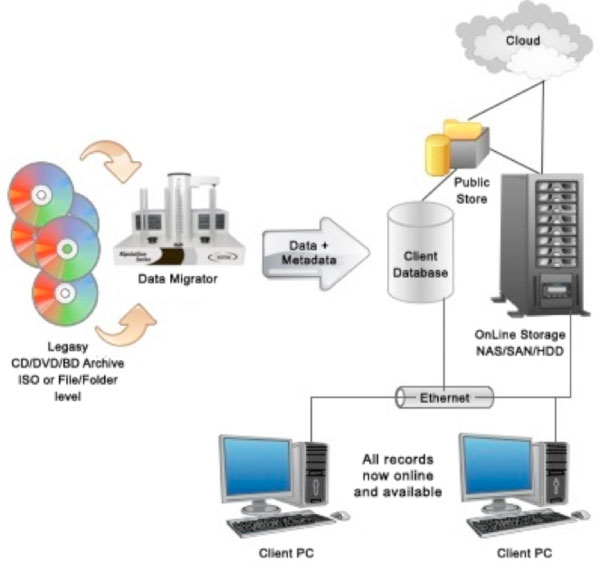 We will take any valid DVD structure disc, or optionally Blu-ray disc and convert this to either file or folder structure. The MediaGrabber software can also convert the disc to ISO image.
Note : Formats MediaGrabber's video ripping does not circumvent copy protection such as CSS in anyway.
Flexible naming for output
Support for DVD and Blu-Ray Video*
Rip DVD to Video TS structure or ISO
Rip Blu-Ray to BDMV structure or ISO
Integrated support for web based metadata
Flexible naming conventions for data storage
Send To Disk – Automated NAS or back up HD loading
Detailed logging for all jobs – Provides customer friendly formats and detailed error logging
MD5 and CRC checking
Flexible error correction – auto reject media in bad condition
Audio Ripping & Video Ripping services
Formats can easily move (Rip) your entire CD or DVD collection to a removable device such as a USB Hard Drive.
We support all major, compressed and non-compressed, formats such as WMA, WAV, MP3, AAC, APE, FLAC, OGG, AIFF and WAVPACK. It's all about the workflow, the metadata and then the end result!
You can chose a compression format that suits your needs.
Our RipStation equipment supports the following:
Advanced Software Ripping Features
ALL major codecs – WMA, WAV, MP3, AAC, APE, FLAC, OGG, AIFF and WAVPACK

Rips Audio CD

Rips Audiobook CD (99 Tracks)

Rips MP3 CD

Rips Hybrid SACD (SACD playable on normal CD player)

Multi codec operation

Snippet/Clip Generation

Feature to rip separate tracks of a disc into one long file

Ripsure error detection

TrueTrack accurate ripping
Meta Data
FreeDB

Track type

Local cdplayer.ini files

Manual entry

Automated editing

iTunes compatibility

WMP Compatibility

Full media player compatibility

JPG and

PNG

and embedded cover art support

Fully flexible file naming with metadata variables

Testimonials
Hi Joan,

We can not stop listening to the CD. You guys did such a phenomenal job. Also, we noticed you added the CD text. Thank you so much! We truly appreciate you and Formats Unlimited.

Happy Holidays!

Many blessings,

Taylour (F.L.O.G.I.C)

This small but mighty team leveraged meticulous project planning, agility, and growth mindset to deliver the project on time with no USB key failures
Becton, Dickinson, and Co.

Just wanted to thank you for the order you put together for us. We're very pleased with how it came out. We will definitely consider coming to you for our next job.
Fine Surgical Instruments Inc.

THANK YOU SO MUCH! I can't wait to get the discs in! You always go that extra mile for us and we really do appreciate it!
Daytona Magic, Inc.

I would like to express my gratitude for the services you Provided for us. Our show was a great success and the CD's made a big impact! Thank you once again for helping us out, especially since we Rushed it!
Fine Surgical Instruments, Inc.

As a consistent customer over the last 5 years, we have found the service to be consistently outstanding. We have used a variety of their available services to help meet our needs of duplication, print options, and fulfillment processes. Accessible customer service and the ability to help with customizing our product needs have helped us make a lasting impression on our customers.
Pinsonault Associates

Formats Unlimited provides ADI with excellent service. I've been working with Formats for the past four years and find the service to be efficient, speedy and extremely organized. Quality Service.
ADI

Thank you so much you are awesome. You have done one hell of a job. Every order is on time or early. I have never missed any of my days to our folks in the field or on the manufacture floor. You're a pleasure to work with and when I retire I am going to miss you and all of Formats the most. If every vendor was like you, what a great place this would be. Thanks again.
Ortho Clinical Diagnostics

Thank you again so much for your help on the VS project. They LOVED the look and quality of the disks. Huge success.
Freelance Media Pro in NYC and Worldwide

Hi Tom,
Please thank your team.
The CD's look great!
Have a happy and safe festive season and I'll be in contact first thing in the new year for a big DVD job I need done.
Much appreciated.

bat